Scenic Argyll, Scotland Virtual Jog & Bike Tour - Available as a DVD or HD Download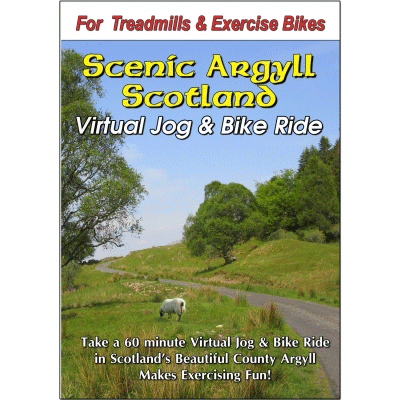 Take a 60 minute Virtual Jog or Bike Ride in beautiful rural Argyll, Scotland! This Virtual Jog or Bike Ride begins in a peaceful scottish glen. Soon you sight the first of the many grazing sheep to be discovered on this narrow winding road. Lambs and their mothers scamper across the road in front of you as road continues to pull you forward through scenic terrain.
Next, the viewer enters a more wooded section of Argyll and after passing over a narrow bridge, the road continues to curve ahead you pass a quaint stone cottage. The scenery, everchanging, continues to be interesting and beautiful with Rhododendron in bloom. Your 60 minute virtual tour ends at the shore of Loch Awe. This DVD lets you experience the natural, scenic wonder of rural County Argyll on a spring day!
Filmed in Widescreen.
Available as either a DVD for $14.99 or HD Download for $6.99 by clicking on "Links" - above left.
Click on "Watch Video Clips" - under "Links" to view samples from this Video.