London - Hope and Glory
March 2018 by Kathi Jacobs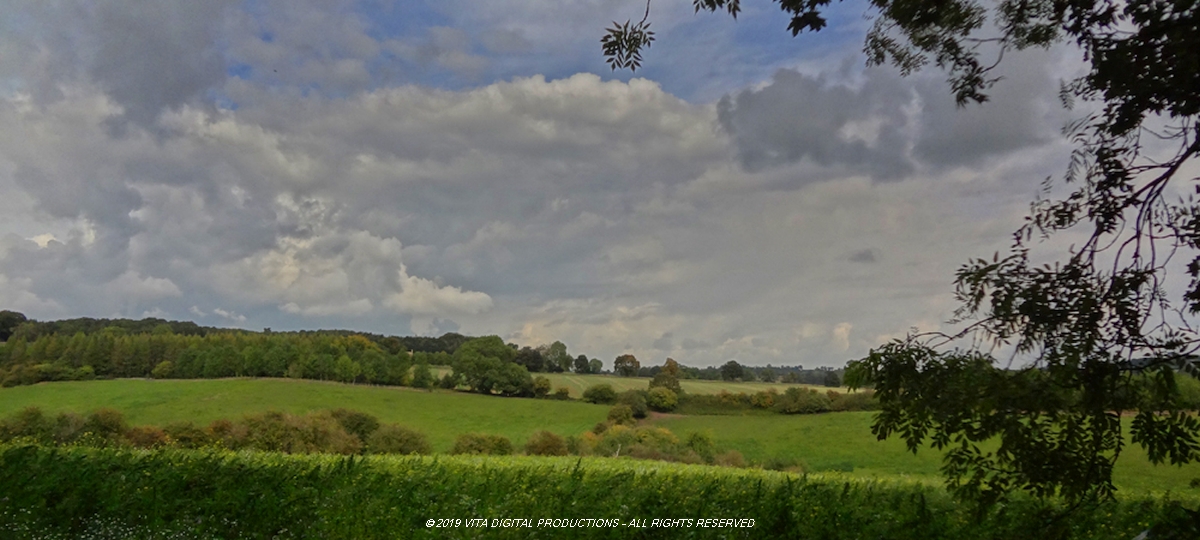 Part 1 of an account of our month long filming trip to London, the Cotswolds, Devon, and Cornwall in September of 2017.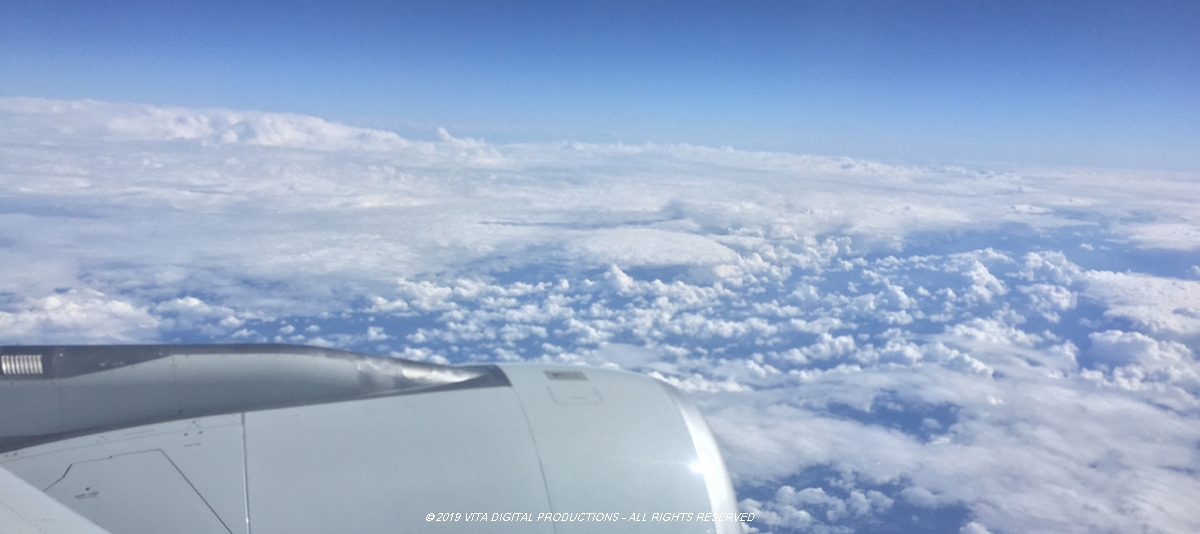 3 SEPTEMBER, SUNDAY - We flew American Airlines #730 nonstop from Charlotte to Heathrow, the third time we've taken this flight to London. It's convenient and, with the upgrade to Comfort seats at the front of coach section, not too bad.
TRAVEL TIP: for those of you not wanting to pay the price of first class or business travel, the comfort upgrade is well worth the extra charge of $75 pp each way: more leg room!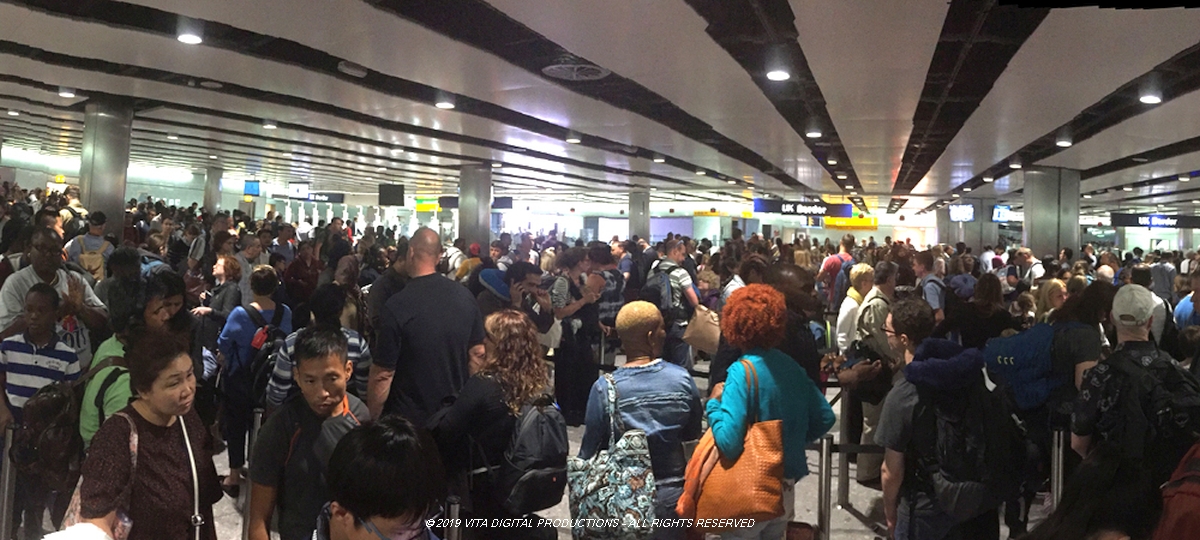 4 SEPTEMBER, MONDAY - We landed at Heathrow and, even after a seven hour flight, we had to stand in line at Immigration for well over an hour as our line slowly snaked back and fourth to the desk. Ugh!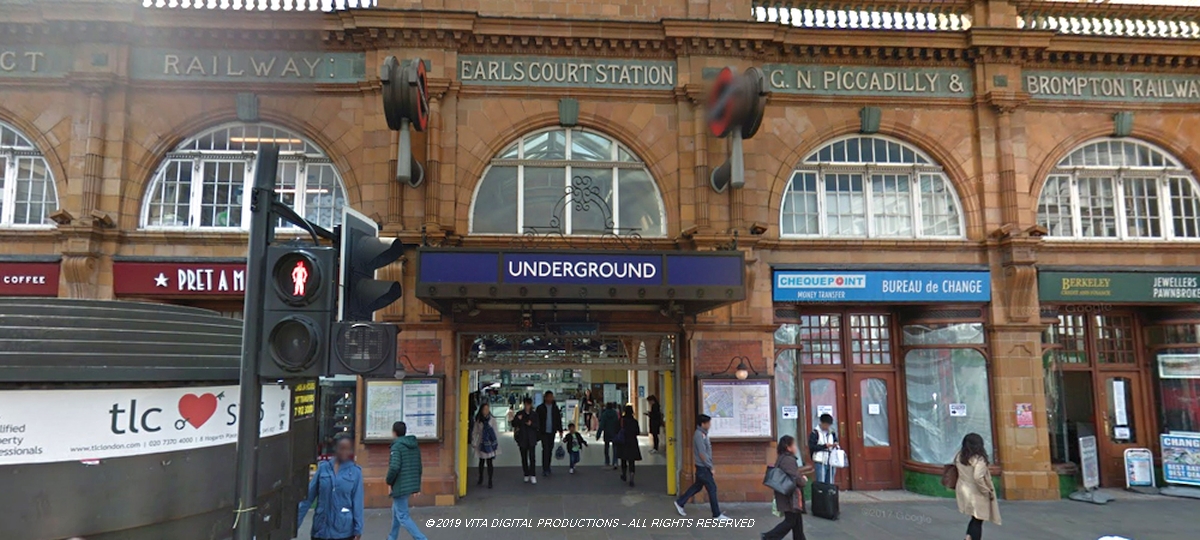 We took the tube from Heathrow to Earl's Court, the nearest Handicapped Tube Station with a lift to our hotel (I had injured my shoulder and could not carry our heavy luggage up stairs). Therefore we had to walk about half a mile to our hotel to keep from walking up stairs.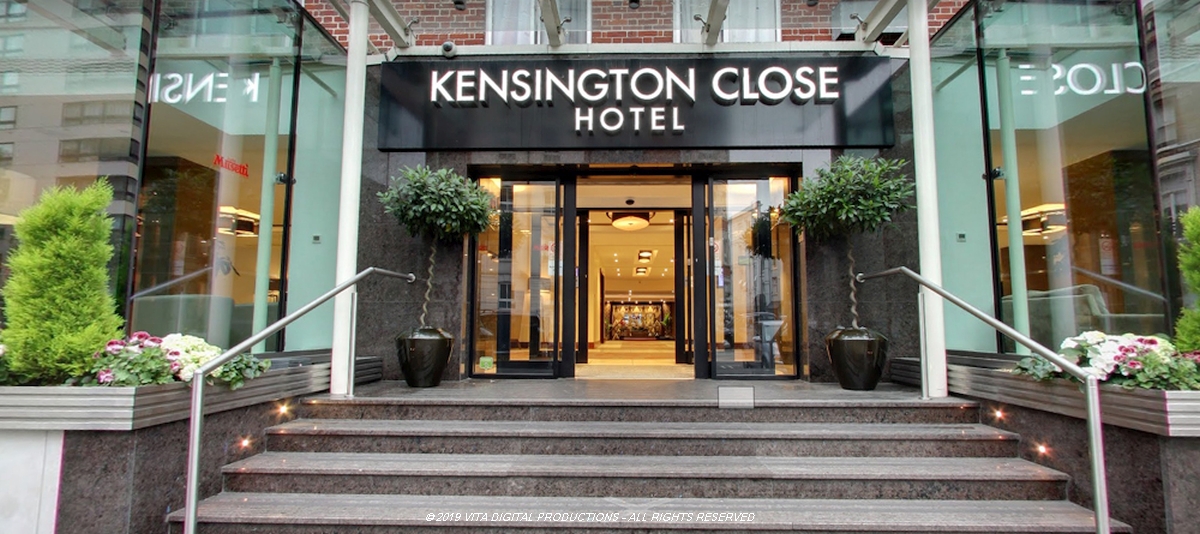 We checked into the Holiday Inn Kensington - formerly Kensington Close Hotel. This is a good value and appears to be a well-run hotel. We took it as a good sign that several airline flight crews use this as their hotel. It's clean, in a safe location, and very near the Underground (the Kensington High Street tube station) and bus routes, and within easy walking distance of some good eateries. We spent the entire afternoon attempting to get a SIM card for my cell and it wasn't as simple as I hoped.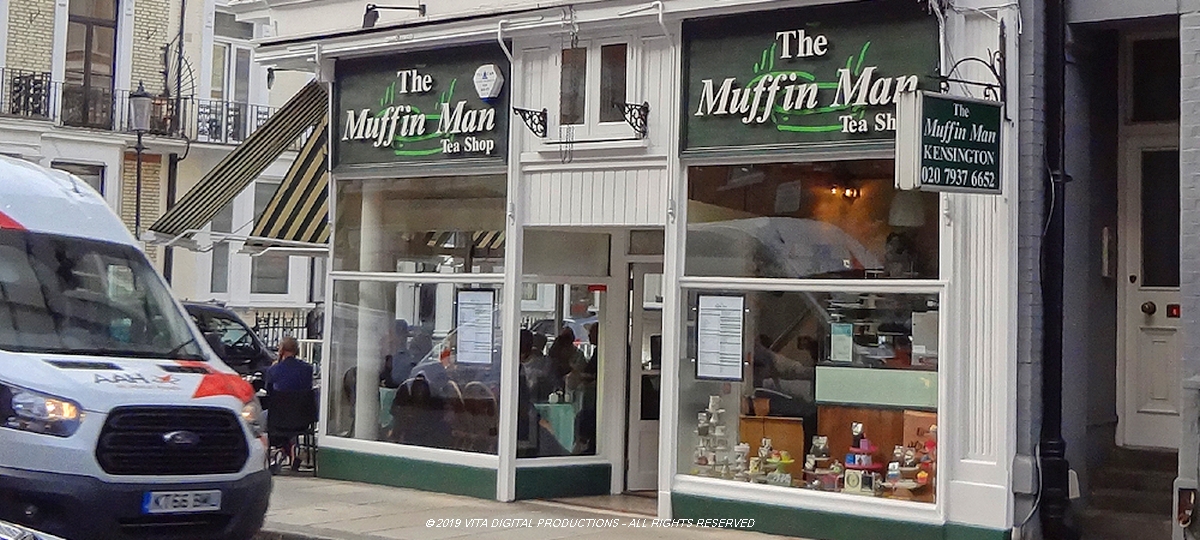 5 SEPTEMBER, TUESDAY - After a good night's sleep we awoke early, showered and headed to a small tea shop for a quick breakfast (a very short walk from the hotel.) The food was delicious and the surroundings were quiet. We were not rushed and enjoyed those extra cups of fresh tea as we adjusted to a different time zone and planned our shooting schedule.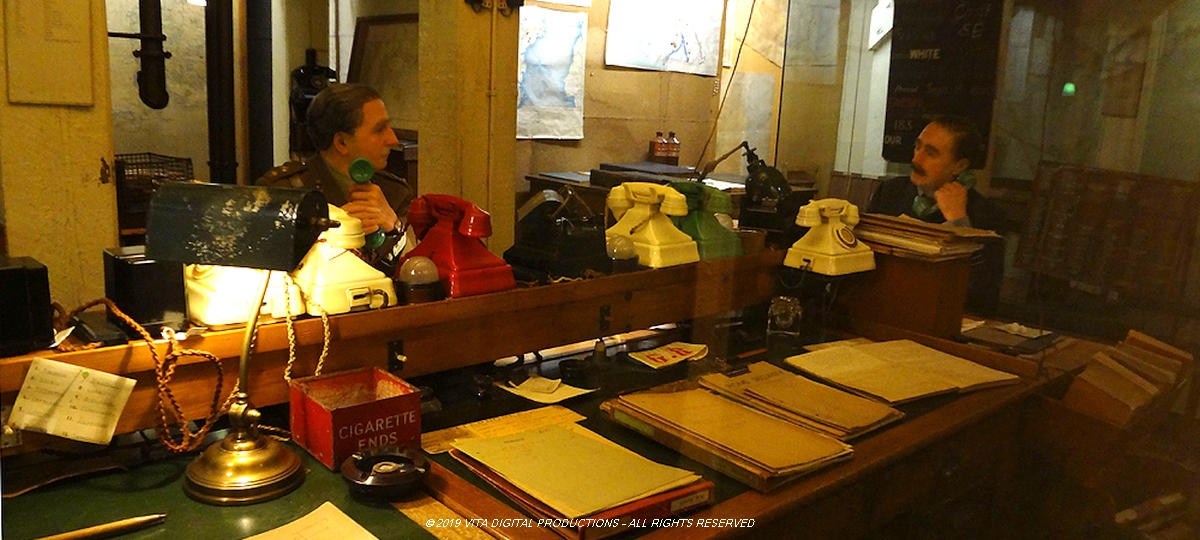 A quick stop at the Churchill War Museum which we've wanted to tour on past trips but never had the time. We toured the Cabinet War Rooms, an historic underground complex that housed the British government command centre throughout World War II, and the museum exploring the life of British statesman, Sir Winston Churchill. For the remainder of the day, we shot 4K Stock Footage in the surrounding areas.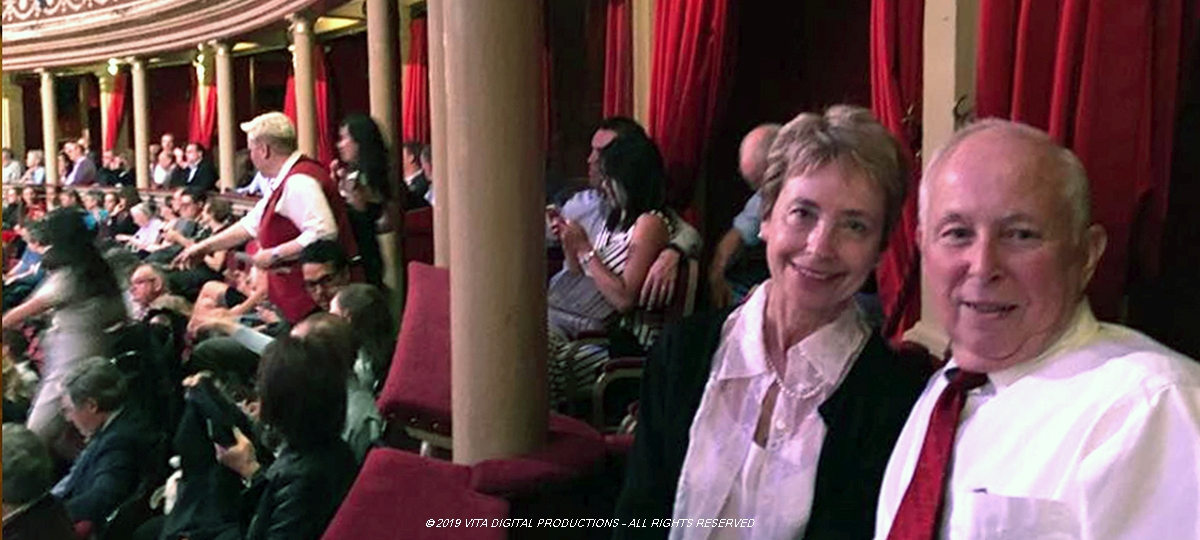 Tonight we fulfilled a promise made to ourselves three years ago when in London: attend a concert at the BBC Proms.
TRAVEL TIP FOR MUSIC LOVERS: If planning a trip to London, treat yourself to world-class classical concerts from mid July to mid September each year in the Royal Albert Hall. The BBC Proms, now in their 124th season, announce the full schedule in May. There is a wealth of information on their website.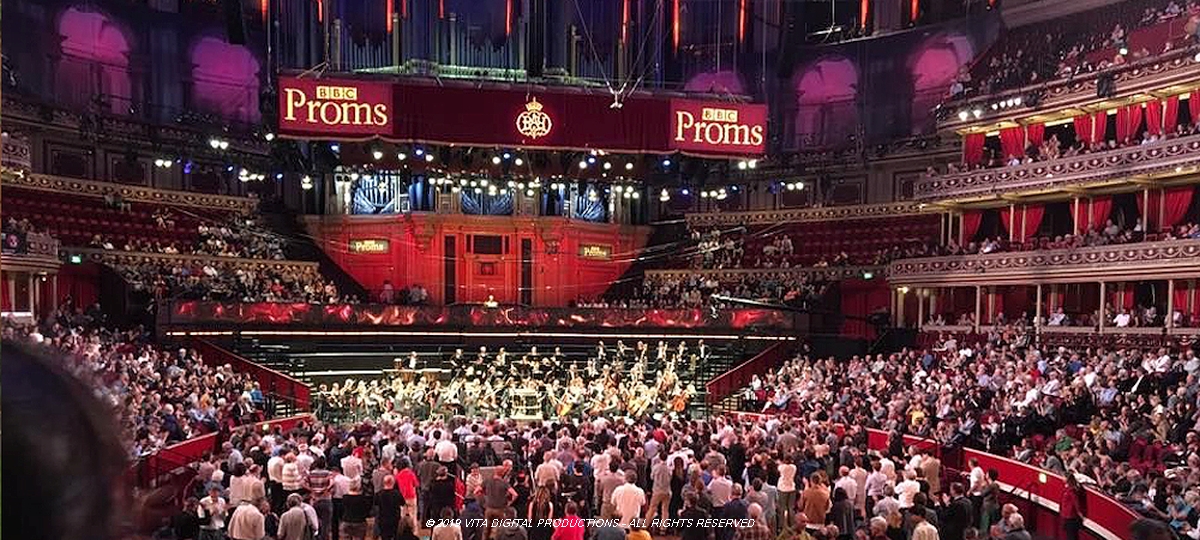 This was Prom #70 (of approximately 80 or so) and the programme featured Bela Bartok's Piano Concerto No.2 and Antonin Dvorak's Symphony No.8 in G major, Op. 88. Tonight's conductor, Karina Canellakis, was making her directorial debut – and she was outstanding and very well-received by the almost full house at Royal Albert Hall.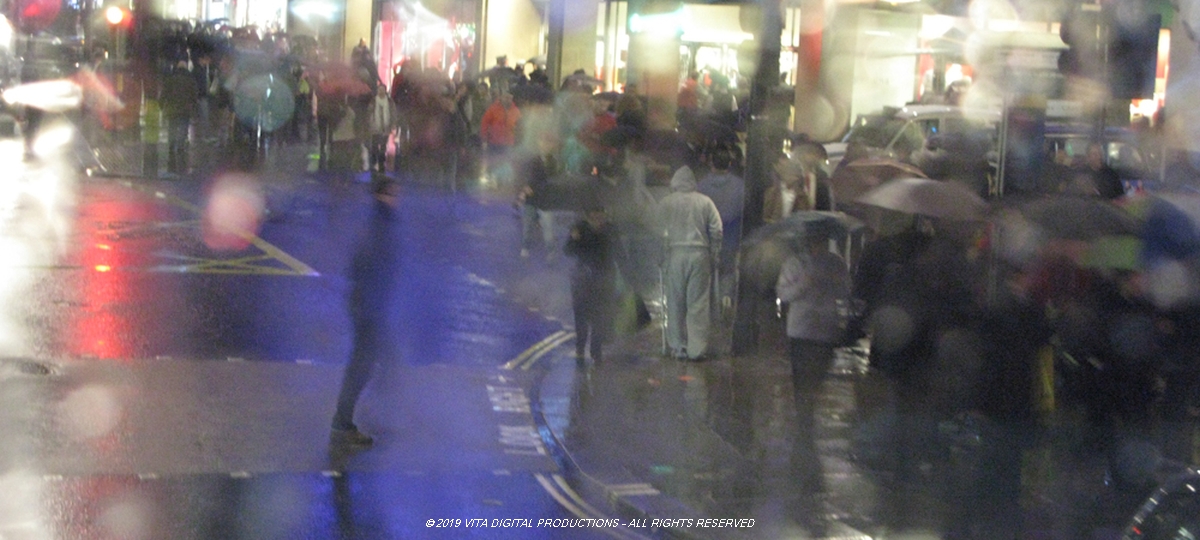 And, after a tiptop evening, we left the RAH in a pouring rainstorm and raced to the bus stop – GREAT FUN and terribly romantic! I love London...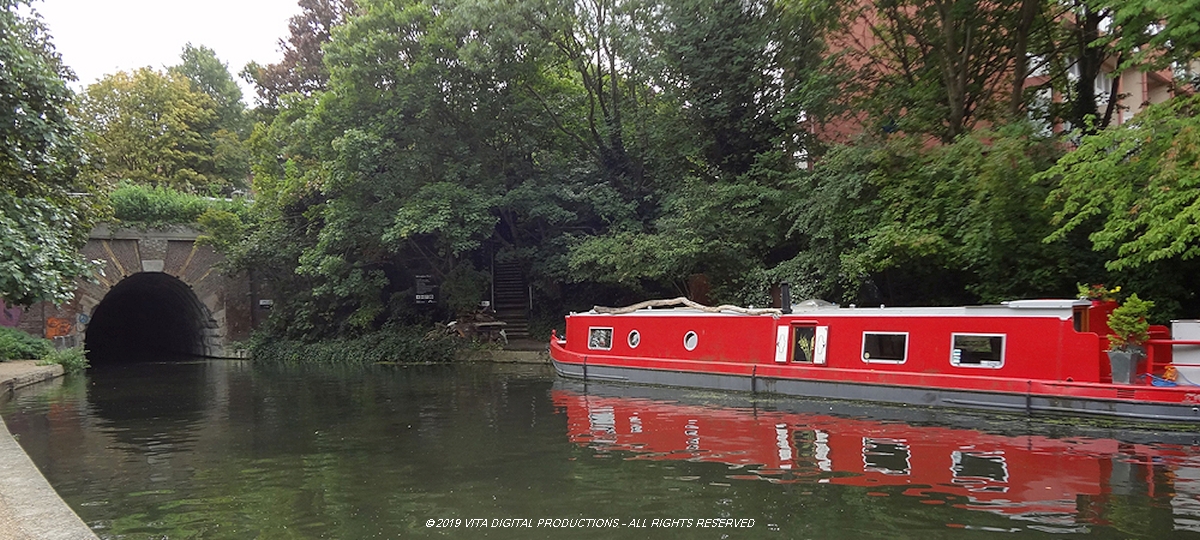 6 SEPTEMBER, WEDNESDAY - Today was an important filming day. Back in 2001 - on our second filming trip - we filmed a 30-minute walk titled "London Waterways," which was filmed in Standard Definition. Over the years, this video had sold well and Wayne wanted to film a new extended hour-long High Definition version, which we set out to film today.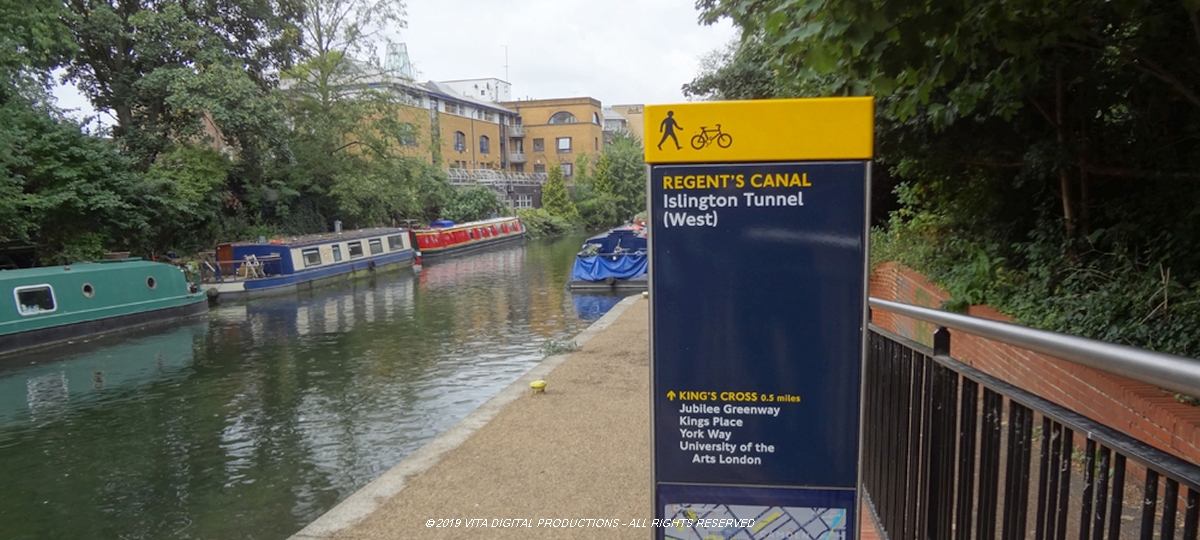 Logging approximately 10 miles on foot (with several tube rides and bus rides thrown in for transport) Wayne began filming in Islington on Muriel St which is essentially the origin of Regent's Canal.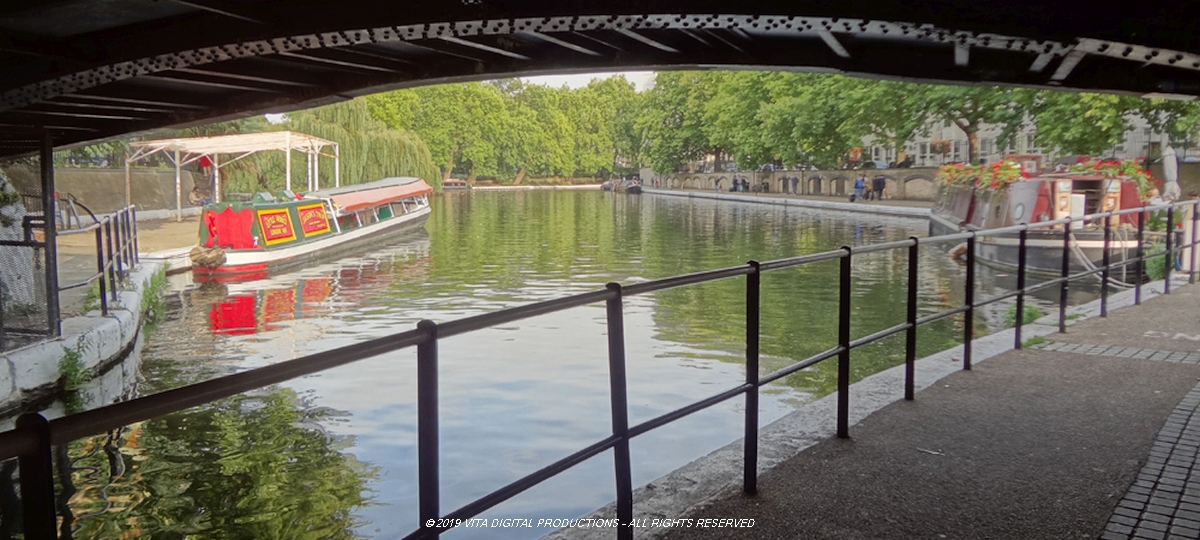 With the waterway on our left we walked straight through to Camden Lock at Camden Town and then on to dear Little Venice.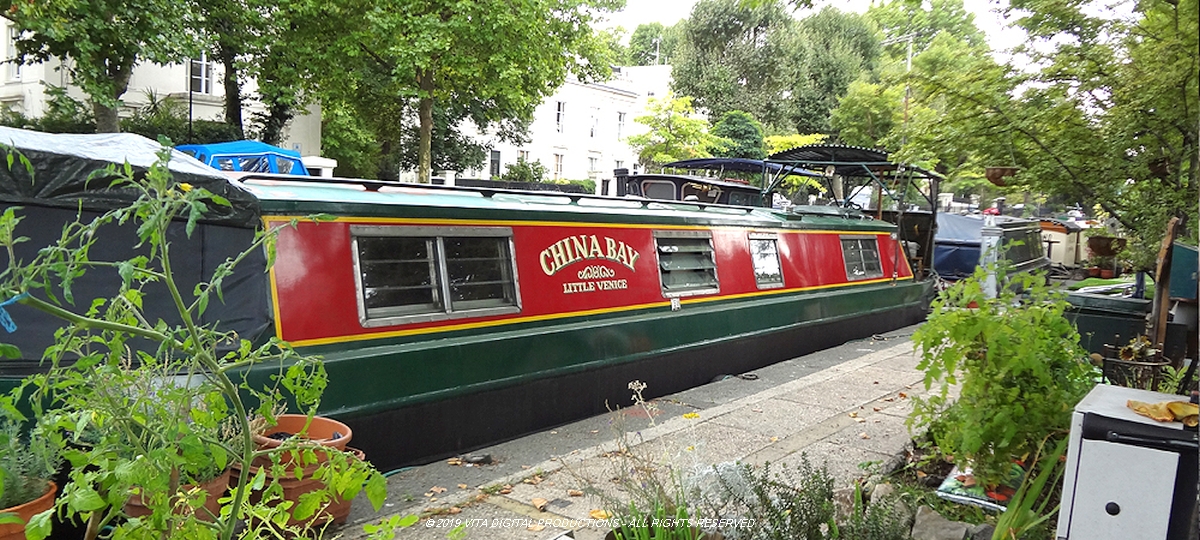 Little Venice is a London neighborhood which features very decorative and colorful houseboats and a series of canals.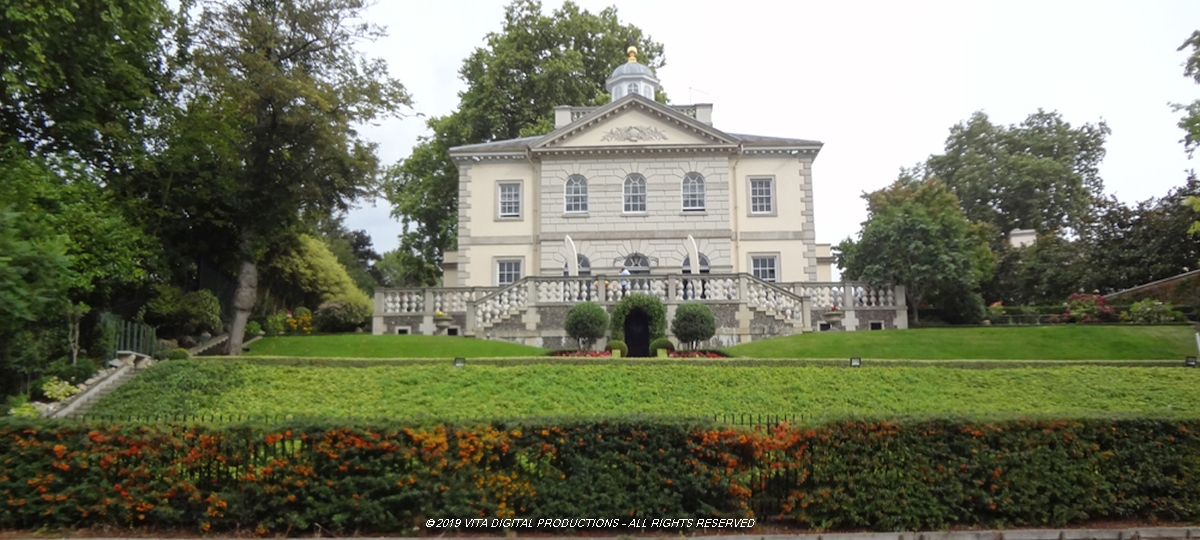 Many of the buildings along the waterway are terraced and painted white stucco – a very pleasant walk and an area favored by artists as well as walkers.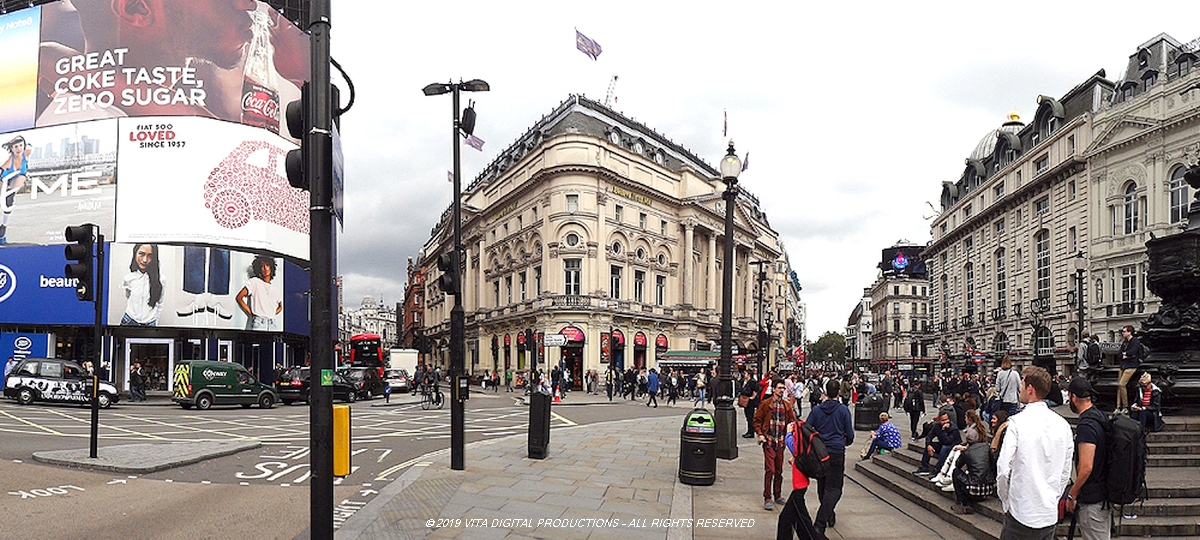 7 SEPTEMBER, THURSDAY - Today was cloudy and there was a chance of rain so we opted for a day of filming 4K stock footage at various sites in London. We covered a lot of London on foot: Piccadilly Circus (above), Cecil Court (but sadly, our friend from past visits, David Drummond has retired and we both missed our lovely chats in his bookshop,) ...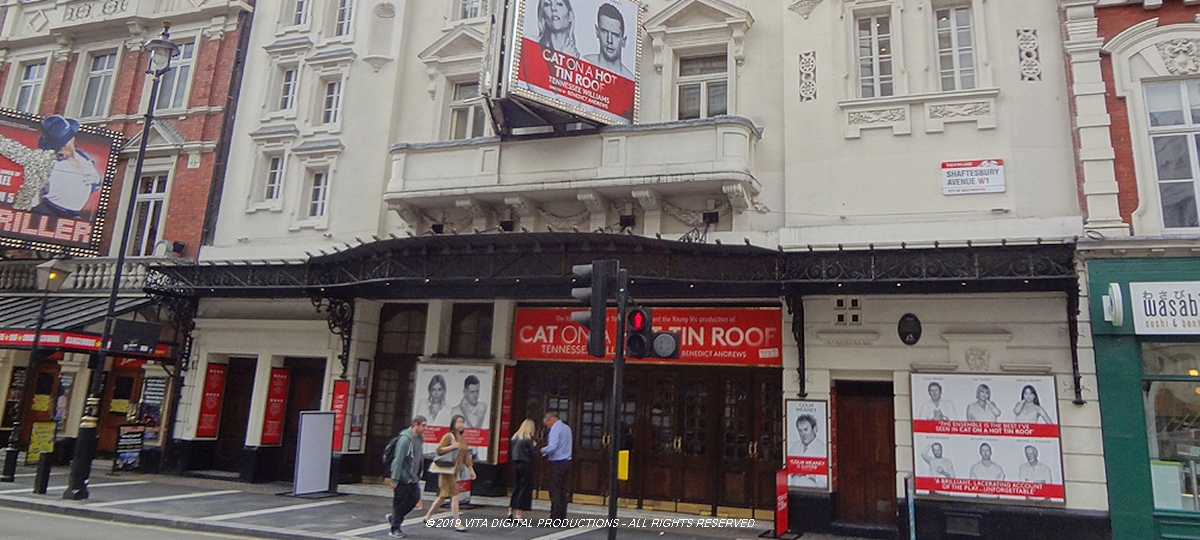 ...the West End and its theatres.....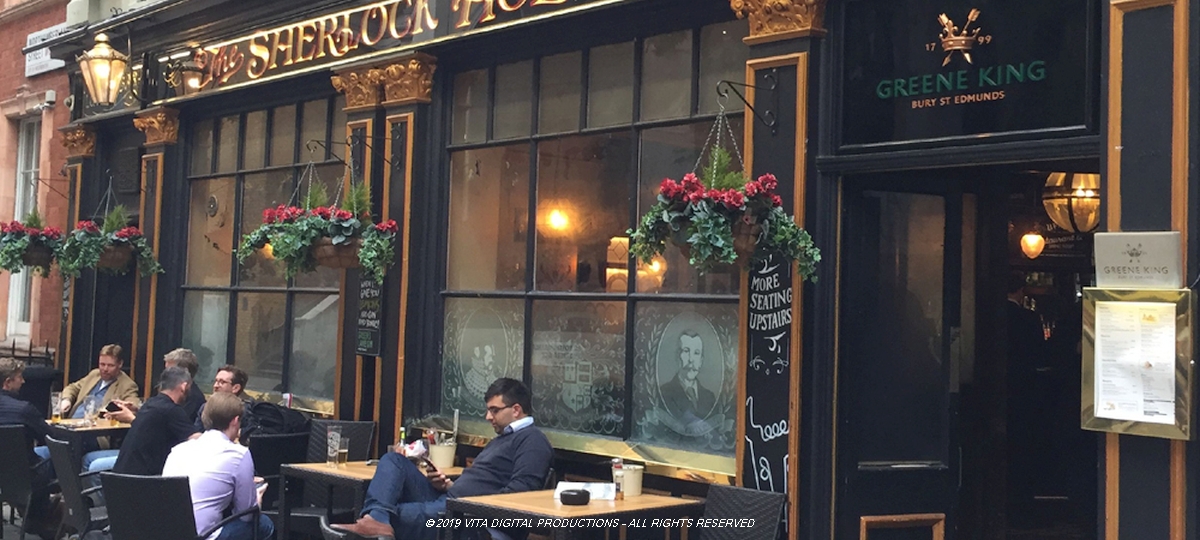 ... and finally on to the Sherlock Holmes Tavern for a mid-afternoon meal. We first discovered this quirky eatery in 2014 after coming off the Hungerford Bridge when we finished filming "The Sherlock Holmes Virtual Walk" and accidentially stumbled upon it.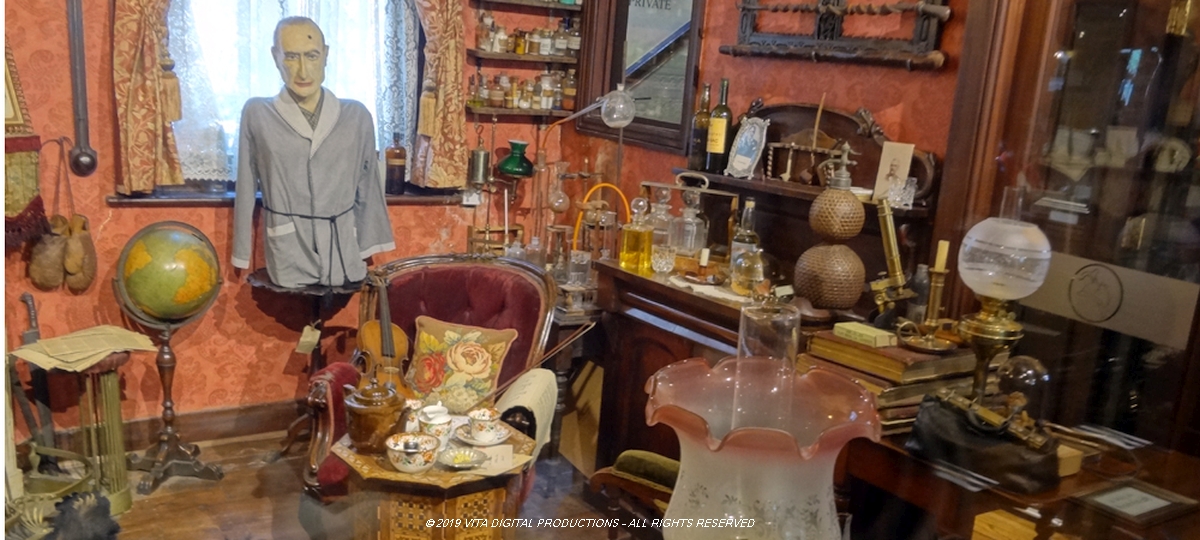 In addition to a number of Sherlock Holmes displays, it offers good pub grub. Our wait person was from Verona and her co-worker was from Venice. They were rather enchanted with our story of our Venice engagement and my job in my early 20s as an au pair in Rome. As I've always believed, one of the greatest things about travel is the opportunity to meet people of all ages and to share customs, stories and memories.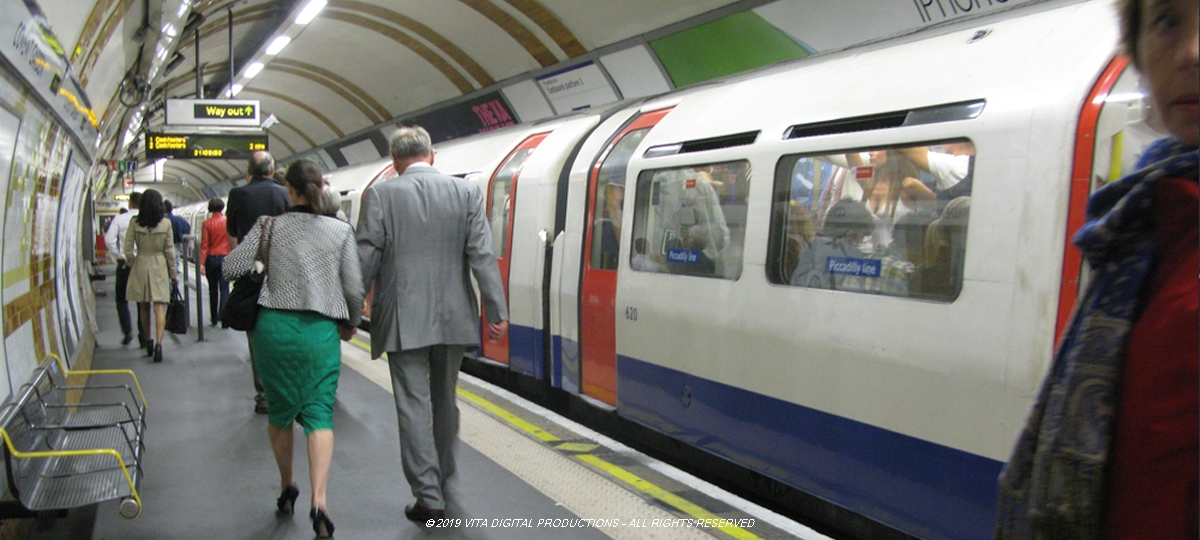 Of course, London is a big city so we used the tube.... a lot. It's the best way to get from one shooting site to another... except during rush hour...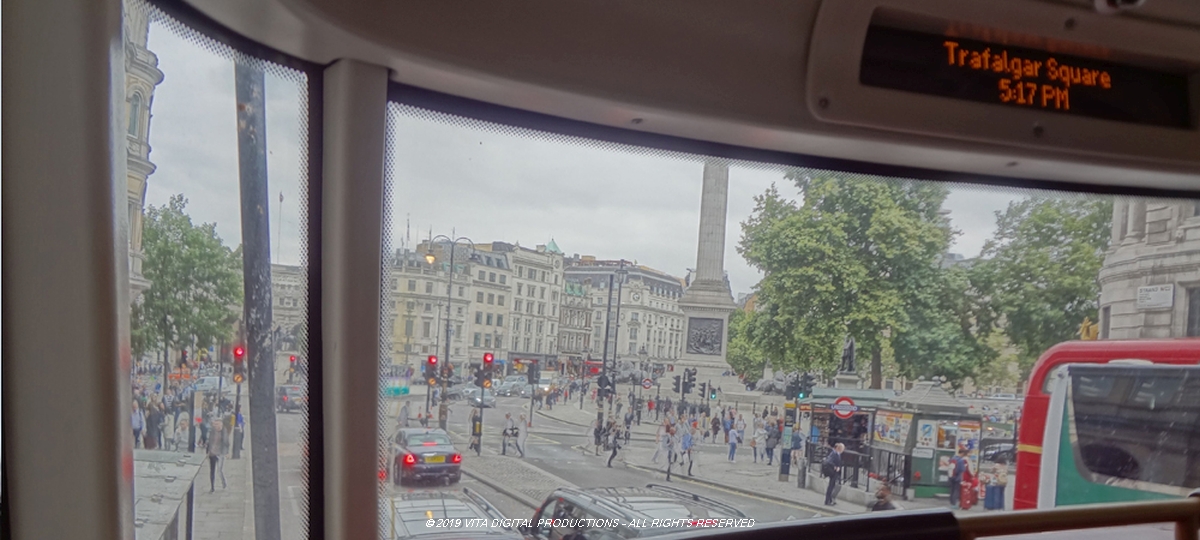 ...so many times it was quicker to ride the bus. We loved to climb the stairs and sit on the top deck and enjoy the view.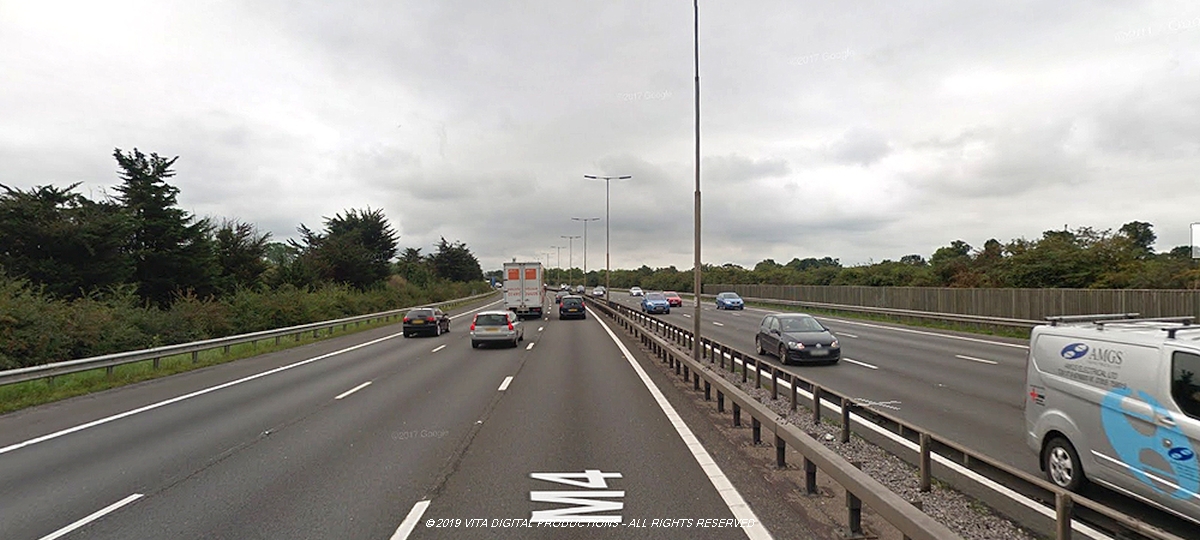 8 SEPTEMBER, FRIDAY - Our short filming stay in London over, this morning we took the tube directly to Heathrow and in Terminal #2 picked up our Hertz rental car. By the time we headed out on the M25 and then the M4, the Friday afternoon rush hour had begun in earnest! It was knuckle-biting until we made our way to the A40.
Continue Reading - Gloucestershire and the Cotswolds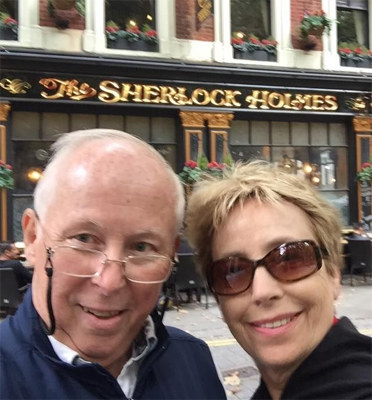 About the Author - Kathi Jacobs and her husband, Wayne, are the owners of VITA Digital Productions, a video production company specializing in creating Virtual Walks, Virtual Jogs, Virtual Cycling Scenery, and Virtual Cruises on scenic rivers. With over 50 different Virtual Experience Videos to choose from on vitadvds.com, VITA Digital Productions is the leading producer of Virtual Experience Videos in the world.