Cinque Terre Villages Virtual Walk - Available as a DVD or HD Download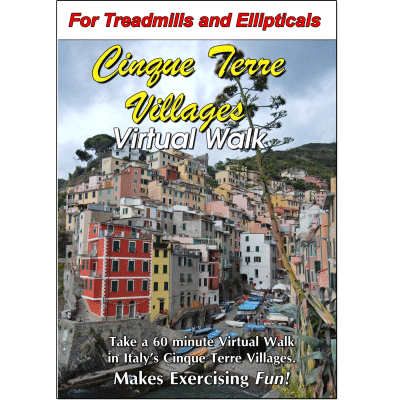 Take a 60 minute virtual walk on your treadmill or Nordic Track in the five timeless villages that make up Italy's Cinque Terre, a UNESCO World Heritage site. Like pearls on a necklace, these five centuries-old seaside villages, set against some of the most dramatic coastal scenery in the world, make up Italy's amazing Cinque Terre.
This rugged portion of coast on the Italian Riviera is famous among both hikers and tourists alike and with VITA DVDs' one hour virtual walk, you can "walk" along segments of the hiking trails and in all five of the timeless villages - just as if you were actually there! This 60 minute virtual walk is accompanied by the natural sounds just as they were recorded in Dolby Digital Stereo in Italy. If you've ever wanted to visit the Cinque Terre, then you'll enjoy your exercise sessions while "walking" on your treadmill in the villages of Riomaggiore, Manarola, Corniglia, Vernazza, and Monterosso al Mare!
Filmed in Widescreen.
Available as either a DVD for $14.99 or HD Download for $6.99 by clicking on "Links" - above left.
Click on "Watch Video Clips" - under "Links" to view samples from this Video.