Cornwall Virtual Bike Ride - Available as a DVD or HD Download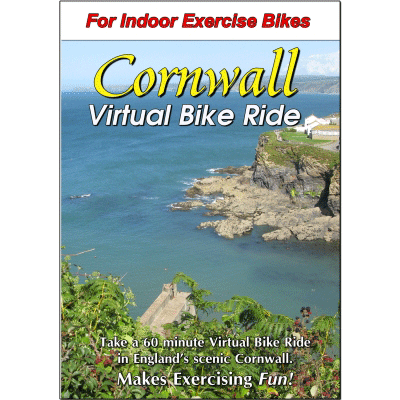 Take a 60 minute Virtual Bike Ride in scenic Cornwall, England. The twelfth in our ever growing series of Virtual Bike Ride Videos has a 60 minute widescreen virtual cycling tour in scenic Cornwall in rural northwestern England. Your 60 minute Virtual Bike Ride begins in rural Cornwall.
After starting with a view of the coast in the distance, you pass hedgerows so typical of rural England. Around every turn on this one hour cycling scenery video there is something new to make your ride pleasant. Flowers, especially hydrangeas, are lush and numerous in August in Cornwall. Moving on, our route takes us briefly into a residential area but even this area is scenic. Then it's back into rural Cornwall with its wide vistas and puffy clouds. You will occasionally see a windmill in the distance in this area of northwest England.
We next return to the coastal road and enjoy the view as we cycle downhill. The one lane road transports us past some beautiful coastal views and briefly into the seacoast village of Port Isaac, the filming location for the PBS series, "Doc Martin." The last section of your 60 minute Cornwall Virtual Bike Ride begins with a breathtaking vista of the coast. As you descend the hill, you pass a few homes as you proceed downhill and some intrepid British hikers. Your one hour Cornwall Bike Ride ends at a footpath to the beach.
Filmed in Widescreen.
Available as either a DVD for $14.99 or HD Download for $6.99 by clicking on "Links" - above left.
Click on "Watch Video Clips" - under "Links" to view samples from this Video.