Cotswold Villages - Volume 2 Virtual Walk - Available as a DVD or HD Download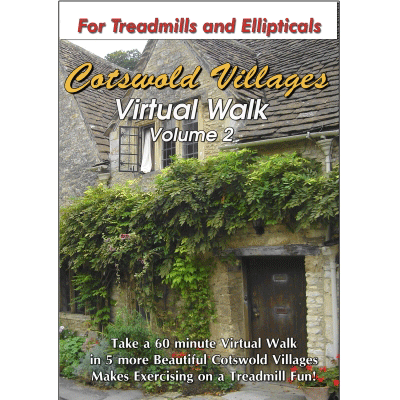 A 60 minute walk through 5 more picturesque Cotswold English villages. The first part of your treadmill walk begins outside of the charming village of Snowshill - so picturesque that it was used as a filming location for the BBC's "Father Brown," S2 E5. Continuing on with your walk, you pause for a moment beside the Church of St. Barnabus and its old graveyard with so many stories to tell. Your walk continues as you next enter the village of Stanton where you pause to take in a lovely thatched-roofed cottage.
Then you next enter the picturesque village of Bourton-on-the-Water. The idyllic village of Bibury is next on your walk. And last, your 60 minute walk takes you into arguably the most scenic village in all of the Cotswolds, Castle Combe. This quintessential old English Village has been the setting of numerous TV programs including an Agatha Christie's Hercule Poirot mystery along with the children's motion picture, Dr. Dolittle. Steven Spielberg's production of War Horse, nominated for 6 Oscars, along with the motion pictures Stardust and The Wolfman were filmed in this picture-postcard English Village.
Filmed in Widescreen.
Available as either a DVD for $14.99 or HD Download for $6.99 by clicking on "Links" - above left.
Click on "Watch Video Clips" - under "Links" to view samples from this Video.
One recent download customer wrote about this video, "May I say it is a great walk! Went further than ever walking and time flew by....I bet there are others I will want. Also it's great to be able to stream instead of store! Thank you for helping me on my way to better health and time in England in my mind....been too many years since I visited. Dale"