Hawaii Nature Virtual Walk - Available as a DVD or HD Download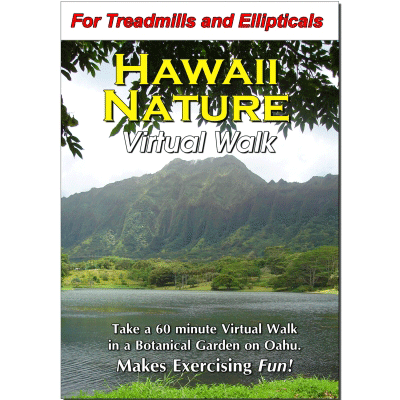 Experience the "Real" Hawaii. During your 60 minute virtual walk in a botanical garden in Hawaii, you'll enjoy the lush green scenery and the sounds of nature around you.
Your one hour Hawaii Nature Walk begins beside a 32 acre lake located within a 400 acre botanical garden. You turn and walk along the edge of the lake populated with ducks, geese, fish, and assorted fishermen (catch and release only). This is such a beautiful location for a walk with numerous tropical trees and colorful flowers. From time to time you pause to enjoy the vista before you then move on through more tropical scenery.
The garden includes many types of palms and tropical plants including Frangipani trees. Waterfowl, including ducks, abound in Hawaii and are a joy to feed and fun to watch. Your one hour nature walk continues around the lake to a bridge before continuing on a path beside the lake. You turn away from the lake and the scenery begins to change and you enter a short hiking trail that winds its way through a "tunnel of trees."
The garden is big and a great place for a casual walk, picnic, or even to exercise and the backdrop of the mountains is reminiscent of "Jurassic Park." In this section of your walk, the fresh Kaneohe breeze picks up. Reversing your directions you once again cross a bridge and walk beside the lake stopping to look at a mature pineapple tree. Your one-hour nature walk ends with a stunning view of the lake and the Ko'olau Mountains.
Filmed in Widescreen.
Available as either a DVD for $14.99 or HD Download for $6.99 by clicking on "Links" - above left.
Click on "Watch Video Clips" - under "Links" to view samples from this Video.