Ireland Nature Virtual Walk - Available as a DVD or HD Download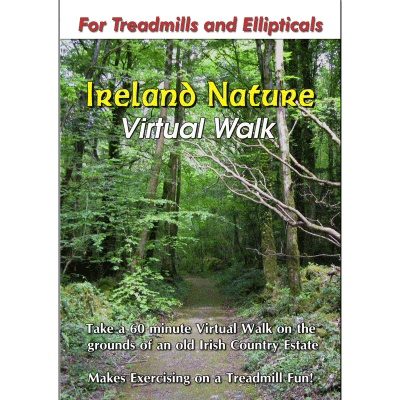 Take a 60 minute Virtual Walk through the Irish Woodlands on a spring day. The 1 hour Ireland Nature Walk DVD begins on a spring day deep in a forest in western Ireland. As you turn and head down a woodland path, you notice that the Irish forest is populated with a variety of plants.
During your walk you pass through brick and stone walls on the grounds of an historic Irish country estate. The walk constantly presents you with divergent paths to take. The Irish forest is alive with bird sounds on a spring day. Walking further on the path takes you ever deeper into the forest.
You are alone in the green woodlands - a solitary walker deep in a mature Irish forest. The woodland in spring takes on a new life, as the trees begin to grow with a new vitality. Ireland in May is a walker's paradise. Your treadmill walk is filled with an idyllic natural environment where moss and ferns interplay with old-growth cedar and fir trees.
Nature lovers will appreciate this peaceful walk. Your 60 minute solitary walk in the Irish woodlands ends at the remains of a old rock wall.
Filmed in Widescreen.
Available as either a DVD for $14.99 or HD Download for $6.99 by clicking on "Links" - above left.
Click on "Watch Video Clips" - under "Links" to view samples from this Video.