Loch Etive, Scotland Virtual Jog & Bike Ride - Available as a DVD or HD Download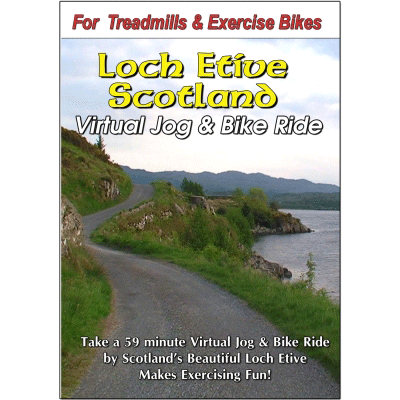 Take a 59 minute Virtual Jog or Bike Ride along the shore of Loch Etive, Scotland! This Virtual Jog or Bike Ride begins by Loch Etive, in the Highlands, one of the most beautiful areas of Scotland. You'll jog or bike through beautiful scenery featuring ancient rock walls, varied topography and vegetation, and breathtaking views as you circle the loch.
This virtual tour along the Loch Etive, is near the seaport city of Oban, in the western part of Scotland. Filmed at speeds of 10 to 15 mph, it's the perfect accessory for your treadmill, spinner, recumbent or upright bike. This DVD lets you experience the natural, scenic wonder of the Scottish Highlands on a spring day!
Filmed in Widescreen.
Available as either a DVD for $14.99 or HD Download for $6.99 by clicking on "Links" - above left.
Click on "Watch Video Clips" - under "Links" to view samples from this Video.