London Virtual Walking Tour - Available as a DVD or HD Download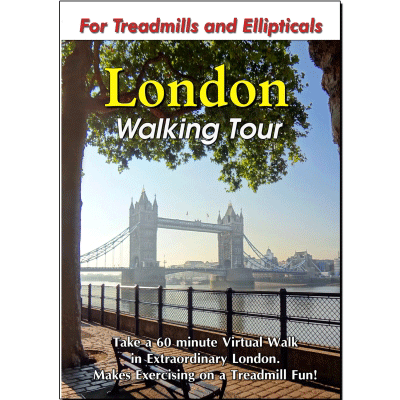 This video will take you on a one hour Walking Tour to many of the famous sites and locations in London. Filmed in widescreen using professional High Definition Television cameras and camera stabilization equipment, the camera seems to float as it transports the viewer through different sections of the city of London.
Your London Walking Tour begins beside the Diana, Princess of Wales Memorial Fountain in Hyde Park and continues through the park until you reach the Prince Albert Memorial in front of the Royal Albert Hall. Next, your tour takes you to Covent Garden and on to Leicester Square and then Trafalgar Square. From there you enter busy Piccadilly Circus before proceeding to quiet Green Park on your way to Buckingham Palace.
Next, you walk to Westminster Abbey, then cross the Parliament Bridge and then pause to turn and view Big Ben and Parliament before walking on to the London Eye. Then, starting at the Globe Theatre, you cross the Millennium Bridge and enter the grounds of the iconic St. Paul's Cathedral.
Lastly, your one hour walking tour of London takes you to the Tower of London to view the moving artwork "Blood Swept Lands and Seas of Red" which marks one hundred years since Britain's involvement in the First World War. The art installation will eventually hold a total of 888,246 ceramic poppies, each one representing a British military fatality during the war. After walking around the Tower of London, your walking tour of London ends near Tower Bridge.
Filmed in Widescreen.
Available as either a DVD for $14.99 or HD Download for $6.99 by clicking on "Links" - above left.
Click on "Watch Video Clips" - under "Links" to view samples from this Video.