Paris Virtual Walking Tour - Available as a DVD or HD Download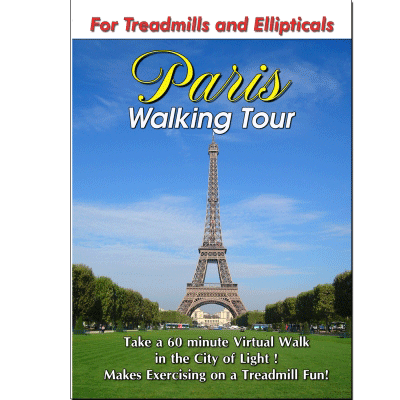 Take a 60 minute walk on your treadmill or Nordic Track through la belle Paris. This New Walking Tour of Paris is so full of details that you'll notice something new every time you view it.
During your 60 minute Walking Tour of Paris, you'll begin on the Left Bank of the Seine, walk past Notre Dame Cathedral, visit the outdoor booksellers along the Seine, walk through the courtyard of the Louvre Museum, through the gardens of the Tuileries, walk along the Champs-Elysées with its exclusive shops and sidewalk cafes, stop to admire the Arch of Triumph, visit the beautiful Luxembourg Gardens, push your way through the crowded streets of Montmartre, and last but not least, visit the Eiffel Tower at twilight along with hundreds of Parisians.
This treadmill virtual walk is full of surprises - one minute you'll be walking along a quiet path in a park and the next you'll find yourself beside a bustling, crowded street. This 60 minute virtual walk is accompanied by the natural sounds just as they were recorded in Dolby digital Stereo in Paris.
If you've ever wanted to visit the City of Light, then you'll enjoy your exercise sessions while "walking" in Paris on your treadmill! And, if you have visited Paris in the past, then you'll enjoy recalling the wonderful memories you made there!
Filmed in Widescreen.
Available as either a DVD for $14.99 or HD Download for $6.99 by clicking on "Links" - above left.
Click on "Watch Video Clips" - under "Links" to view samples from this Video.