Provence Villages Virtual Walk - Available as a DVD or HD Download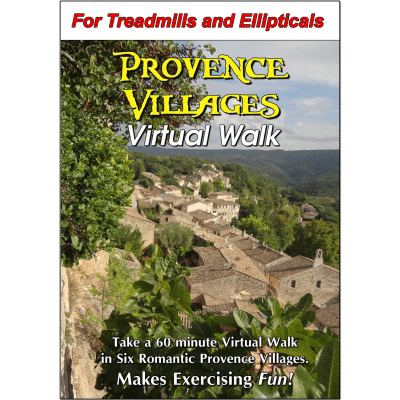 Take a 60 minute walk on your treadmill or Nordic Track through romantic Provence. With this 60 minute Virtual Walk Video you'll experience all the charm, the beauty, and the history of six French Villages far from the hordes of European tourists. During your one hour Provence Villages Virtual Walk, you'll visit the villages of Viens, Lourmarin, Saignon, Lacoste, Ansouis, and Menerbes.
You'll delight in the almost tourist-free streets in these romantic villages. Most of these villages date back to the Middle Ages and for one village, Lacoste, time appears to be standing still. But each one has its own unique history and charm - so much so that 3 of the villages have been designated, "L'un Des Plus Beaux Villages de France" by the French.
This 60 minute virtual walk is accompanied by the natural sounds just as they were recorded in Dolby Digital Stereo in Provence. If you've read Peter Mayle's book series on Provence and wanted to visit the region, then you'll certainly enjoy your exercise sessions while "walking" in these six villages on your treadmill! And, if you have visited Provence in the past, then you'll enjoy recalling the wonderful memories you made there!
Filmed in Widescreen.
Available as either a DVD for $14.99 or HD Download for $6.99 by clicking on "Links" - above left.
Click on "Watch Video Clips" - under "Links" to view samples from this Video.