Rome Virtual Walking Tour - Available as a DVD or HD Download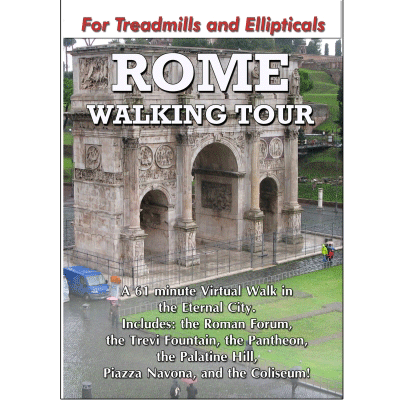 Rome Walking Tour DVD - Take a 60 minute walk on your treadmill to five of the most famous sites in Rome, the Eternal City. Your one hour walk will tour the Roman Forum, the Palatine Hill, Piazza Navona, the Pantheon, the Trevi Fountain, and the Coliseum. You'll walk the Via Sacra - or Sacred Way through the ancient Roman Forum, you'll pass the Temple of Antoninus and Faustina, the remains of the Basilica Aemilia, and the brick Curia - the Roman Senate, you'll pause at the Arch of Septimius Severus, you'll pass the Temple of Saturn and the Temple of Vespasian and Titus, and much, much more!
This Walking Tour of Rome is the next best thing to being there. In addition to touring the five famous Roman sites, you'll enjoy walking the narrow back streets, dodging ladies on bikes and men on motorcycles as you pass numerous sidewalk cafes that populate every corner of Rome. This is certainly one of our most interesting and beautiful virtual walks for treadmills!
Filmed in Widescreen.
Available as either a DVD for $14.99 or HD Download for $6.99 by clicking on "Links" - above left.
Click on "Watch Video Clips" - under "Links" to view samples from this Video.